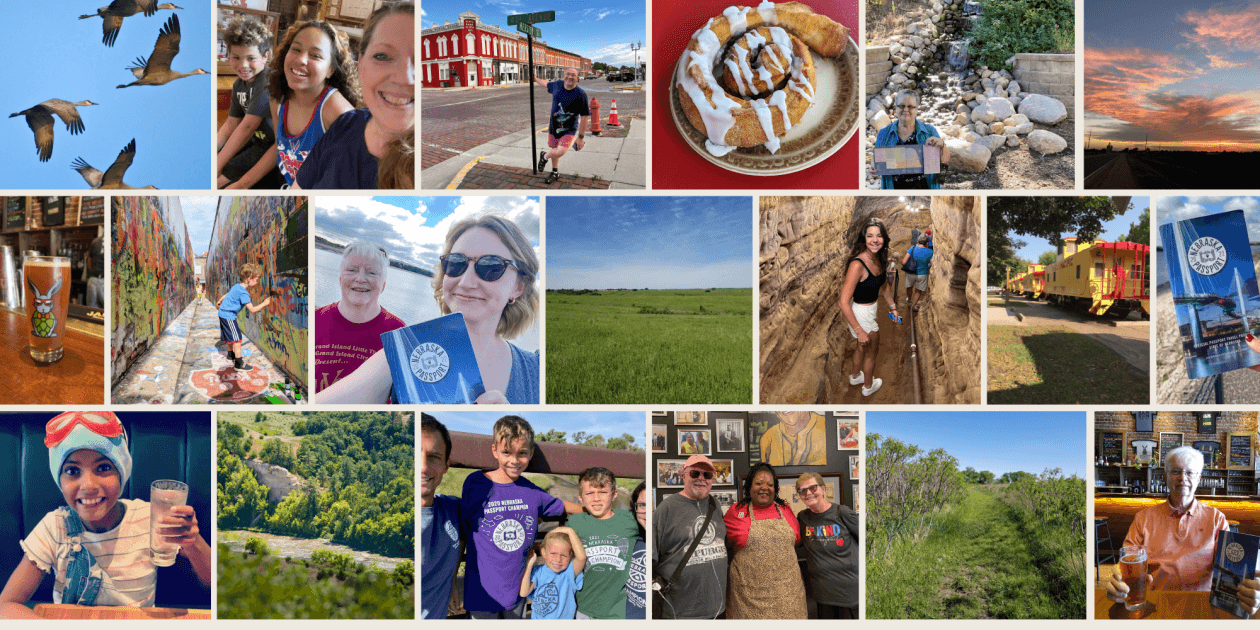 Nebraska Passport
Discover Nebraska's Hidden Gems
The purpose of the Nebraska Passport is to help travelers discover Nebraska's hidden gems. The Nebraska Passport is special because it offers a wide variety of travel adventures, including museums, parks, restaurants, wineries, retail stores and more. The 2023 Nebraska Passport program will run from May 1 through September 30, 2023.
The first Nebraska Holiday Passport ran from November 19, 2022, through January 1, 2023.
See all 2023 travel notices here. 
The following stops will be closed in observance of Memorial Day on Monday, May 29: 
CaLinda's Pot Shop & Art Gallery, Ashby; Central Mercantile feat. Ktown Cakery, Kearney; Circle C Market, Cody; Custer County Museum, Broken Bow; Edgerton Explorit Center, Aurora; Gold Mine Antiques, Schuyler; Hay Jay Coffee, Omaha; HillTop Gardens, Scotia; Little Bluestem, Grant; Lulubee Artisanal Chocolates, Lincoln; Niobrara Valley Vineyards LLC, Nenzel; Sam & Louie's NYP home of Boss City Brewing Co., Sidney; Sandhills Boutique, Clarkson; Terrace Books, Columbus; The Crispy Biscuit Pet Deli, Scottsbluff; The Flower Market and Gifts, North Platte; THE LOFT by LDI, Lincoln; The Refuge at Landmark Nursery, Eagle; The Rescue Bar & Grill, Sargent; Three Brothers Vineyard and Winery, Farnum; WhiteClay Makerspace, White Clay.
If a stop is normally closed on Monday, they are not listed above.
Modified hours for Memorial Day weekend: Big Apple Fun Center, Kearney, open 2p.m.-1a.m on Memorial Day. ReMain; Little Bluestem, Grant, closing at 11a.m. on Sat, May 27; ReMain, Springfield, open 10a.m.-2p.m. on Saturday, May 27; Three Brothers Vineyard and Winery, Farnum closing at 5p.m. on Sat, May 27.